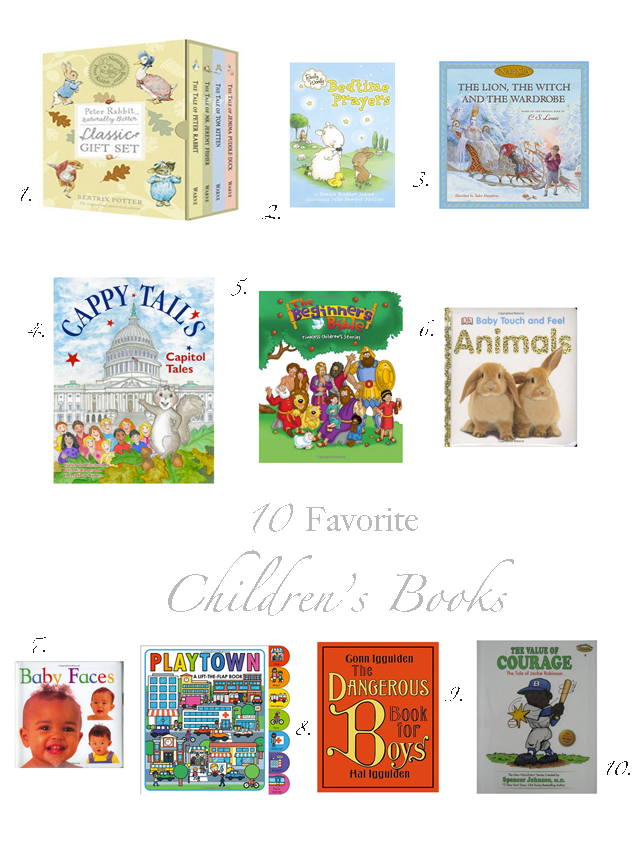 1. Peter Rabbit Set: This set is precious and was a gift for John Shea before he was born. Thank you, Sadie!! His favorite book of all time up until recently was Tom Kitten. Gracie loves them all – they're little enough for her to hold and carry and look through, and some of my favorite to read aloud.
2. Bedtime Prayers: Sweetest illustrations with a verse and prayer. We love this one.
3. The Lion, The Witch and The Wardrobe: This is a very short version with beautiful illustrations.
4. Cappy Tails: This along with The White House Mouse and Marshall, the Courthouse Mouse were gifts from our friend Peter Barnes who authored these with his wife. These are really cute books that are a fun way to teach about the US Government.
5. The Beginner's Bible. We have a few children's bibles but this one is our favorite. It was a gift for Gracie on her baptism from our Pastor in Monterey. I try to read one little chapter in the morning with the kids for their devotional time. Psalm 23 (the Lord is my Shepherd) has especially precious illustrations.
6, 7. Baby Touch & Feel Animals and Baby Faces. These were gifts from Nana Beth and are Gracie's absolute favorites!! They are the only books she will sit still for the entirety, over and over again. She laughs so hard at each baby face and loves to feel the textures on the animals. John Shea usually steals these and "reads" them himself.
8. Playtown: Grandma Emina sent this one and both of my kids love to flip through it and open all of the little windows and doors in each part of the town, though John Shea especially likes to hear about the trucks page.
9. The Dangerous Book for Boys. This is going to be perfect for John Shea when he's a little older and in the meantime, it reminds me to let go a bit as his Mom. This description sums the book up perfectly: In this digital age there is still a place for knots, skimming stones and stories of incredible courage. This book recaptures Sunday afternoons, stimulates curiosity, and makes for great father-son activities. The brothers Conn and Hal have put together a wonderful collection of all things that make being young or young at heart fun—building go-carts and electromagnets, identifying insects and spiders, and flying the world's best paper airplanes.
10. The Value of Courage: The Story of Jackie Robinson. Cam grew up reading all of the books in The Value of Series but this one was his favorite and it's fun now for him to read it to John Shea.
We have about 100 other books we all enjoy, but these are a few of the most read at the moment. I'd love to hear your favorite children's books!