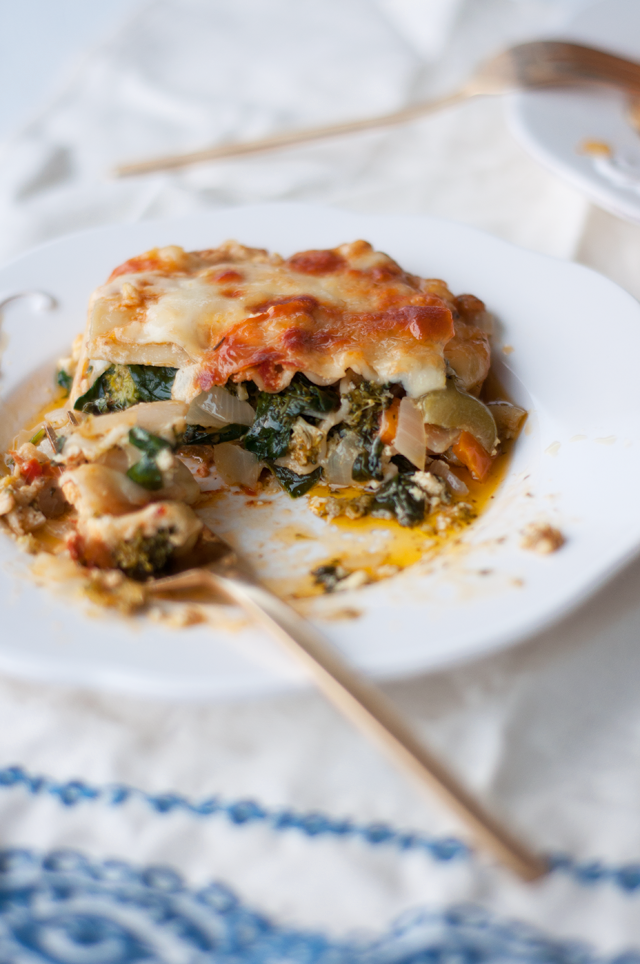 I cooked this meal with John. He obviously can't help just yet, but he does love hearing me ramble on and on to him in silly voices and facial expressions. So..! He sat in the bumbo chair, in rapt attention as I chopped fresh vegetables, sauteed garlic, and pulled out warm bread and baked brie from the oven, dripping with olive oil and oregano. I explained everything I was doing and the importance of starting with good, fresh ingredients. I want him to grow up learning how to cook. I am determined to teach him about good food, about good wine, about slowing down to relax and eat together and the beautiful communion that happens when we do, about seeing the provision we are given every single time we eat, and most of all, about seeing Christ's love for us in every flavor, color, bite and sip.
I can never start too early, right?!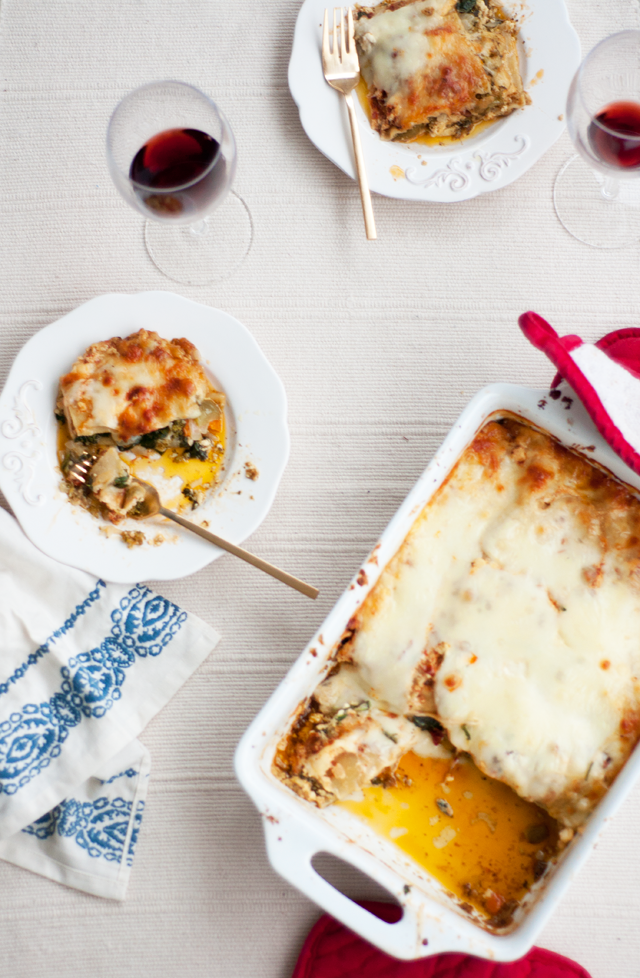 Cheesy Fresh Vegetable Lasagna
2 large heads of fresh broccoli, chopped
1 yellow onion, chopped
2 bell peppers, chopped
4-6 good handfuls of fresh spinach, chopped
EVOO
fine sea salt & pepper for taste
2 TBS crushed garlic
16oz ricotta
8 oz feta
2 eggs
about 6-8oz fresh pesto or store-bought
9 oz fresh or cooked lasagna sheets
1 lb fresh mozzarella, thinly sliced
Preheat the oven to 375 degrees F.
Cover the bottom of a large saute pan or pot with olive oil. Over medium heat, saute the garlic and onion until translucent. Add the broccoli and peppers and another good glug of olive oil and good pinch of salt & pepper. Stir until the vegetables have cooked through, about 5-10 minutes. Stir in the fresh spinach and remove from the heat. Set the pan or pot aside. The heat will continue to cook down the spinach.
In a medium-sized bowl, combine the ricotta, feta, eggs and a good pinch of sea salt, atleast 1/2 a teaspoon.
Spread 1/3 of the pesto on the bottom of a large baking dish. Cover with lasagna sheets. Spread 1/3 of the cheese mixture, then half of the veggies. Continue layering with the lasagna sheets, pesto, cheese, remaining vegetables. End with remaining lasagna sheets, pesto, cheese and mozzarella. Bake uncovered for an hour, or until the cheese begins to bubble and lightly brown.