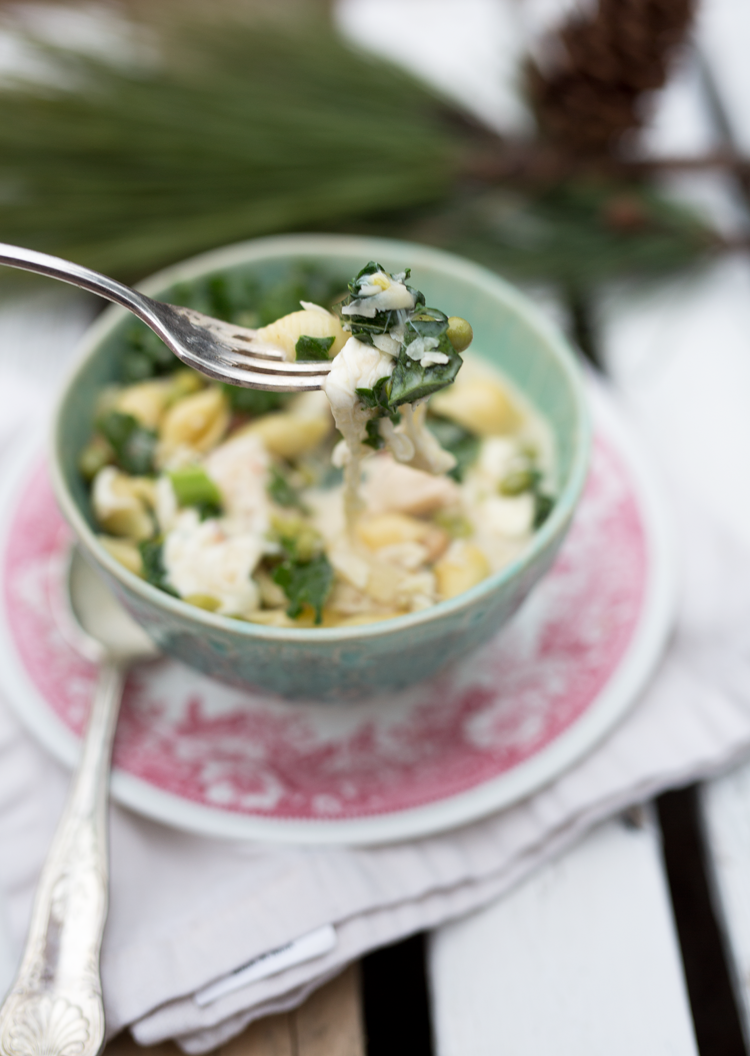 We are loving this pasta so much I've already made it twice this week. It's been a delicious way to warm up with all the cold weather we're having. The creaminess is thanks to coconut milk… and cheddar and mozzarella cheese, too!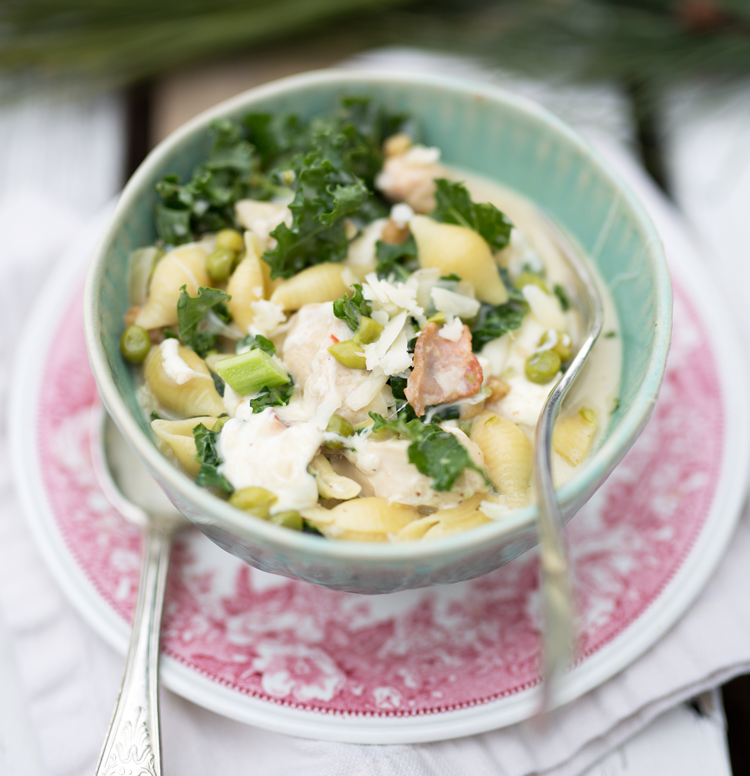 This can be made in one pan and is an easy way to get in as much greens as you'd like! I cut up a fresh mozzarella ball and added the slices in at the end so that they just begin to melt before serving and create an especially gooey, cheesy experience that put a big smile on my husband's face. Chopped walnuts on top add a nice crunch that complimented the cheese well. I hope you enjoy it!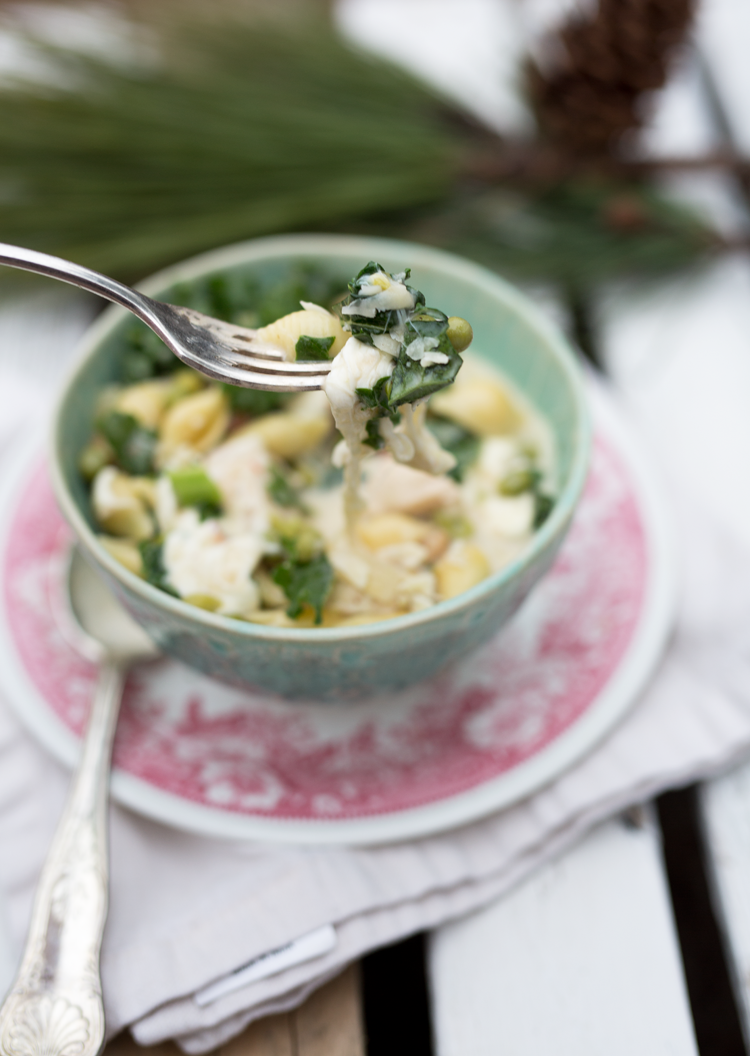 Creamy Winter Greens Pasta with Lemon Garlic Chicken and Walnuts
A nutritious and comforting weeknight one-pot meal!
Ingredients
Chicken Marinade:
1

lemon, squeezed

2

TBS

olive oil

4

cloves

fresh garlic, pressed

1

lb

chicken breasts, cut in bite-sized pieces

fine sea salt & fresh cracked red pepper for taste
For the Pasta:
4

pieces

bacon, roughly chopped

1

onion, chopped

3

cloves

fresh garlic, pressed

1

12oz bag

frozen peas

2

C

chicken stock

1

13.5oz can

coconut milk

1/2

lb

pasta (I used shells but rigatoni would also work well)

1

C

white cheddar, shredded

1

16oz ball

mozzarella, cut into chunks

3

handfuls

kale, roughly chopped

chopped walnuts, fresh basil leaves & shredded cheddar for optional garnishes
Instructions
Chicken Marinade:
Combine the first four ingredients in a freezer ziplock bag. Generously season with the sea salt and lightly with freshly cracked red pepper flakes. Seal the bag and massage the marinade into the chicken so it's evenly coated. Set aside for about an hour or two, or in the refrigerator if it will marinate for longer. I usually like to leave mine overnight, but if you do this, keep in mind that the chicken will cook much quicker because the acid from the lemon juice will have already started to naturally "cook" the chicken.
Pasta:
In a deep saute pan over medium high heat, cook the bacon just until it begins to brown and get crispy, about 3-5 minutes. Carefully pour out most of the bacon grease, leaving about 1-2 tablespoons of it in the pan. (You could also leave all of the grease in the pan for more flavor, or pour out all of it– but if you do the latter, be sure to replace with olive oil so the onions don't stick to the pan and burn!) Stir in the chopped onion and saute for another 1-2 minutes or until it becomes translucent. Add a drizzle of olive oil and the fresh garlic and stir in the frozen peas. Saute for one more minute so the flavors marry with the peas.

Pour in the chicken stock, coconut milk and chicken pieces. Give the whole thing a good stir. It will look really soupy, but don't worry! As it simmers it will thicken. Turn the heat to high until it reaches a boil. Then turn it down to a simmer. Stir in the uncooked pasta and simmer uncovered for 35-40 minutes, stirring every now and then or as needed.

During the last 5 minutes, add in the cheddar and kale. Stir to combine. Stick the mozzarella pieces evenly throughout the pan, pressing them down into the sauce. They'll begin to melt and make the whole dish nice and cheesy.

I garnished ours with chopped walnuts for a nice crunch that complimented the cheese well. Serve with a white or sparkling wine. Enjoy!!