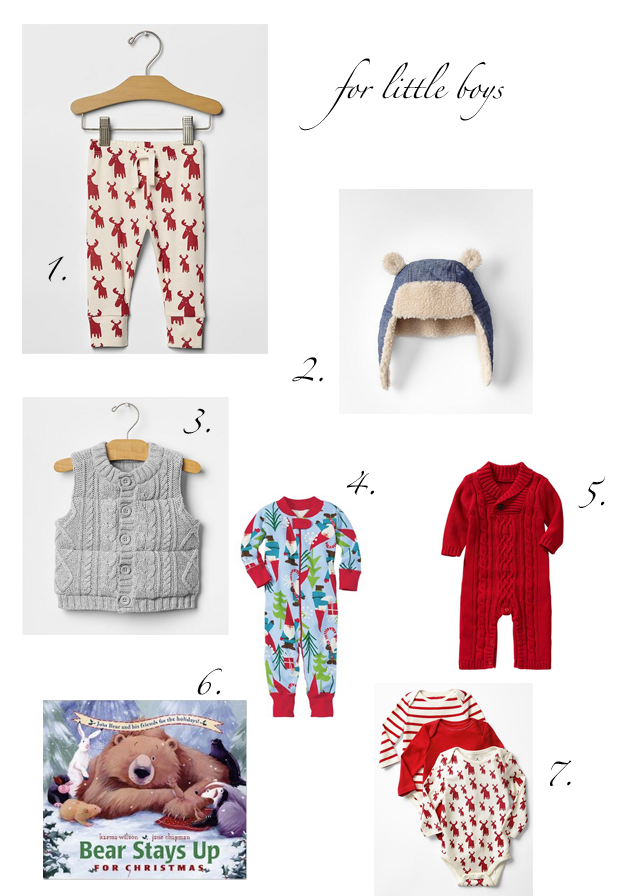 1. Moosey pants from Baby Gap. I bought them for $7 online. I like to wait for their online sales during the week! I love the quality of Gap but will only shop there with a good discount 🙂
2. Trapper bear hat!
3. Cable Knit Sweater Vest. aka John Shea's sweet old man vest. It is really precious.
4. Christmas jammies
5. Sweet cable knit romper
6. Bear Stays Up For Christmas…. Bear Snores On is one of our favorites! Aunt Jules & Uncle Patrick got it for John and I've read it so many times now I have it memorized. Uncle Mikey has all the voices down and made me laugh so darn hard every time he read it outloud this summer, so I'm going to bring this one with us for Christmas. Get your voices ready, Mikey Bear.
7. Winter/Christmas onesies. With the online discount earlier this week they were $15 for the three.


Also, I remember loving this book as a kid at Christmas time!
Before becoming a Mother, I never imagined the cute clothes out there for little boys. I always thought that was reserved for girls. Most of the time my toddler baby is running wild in just a diaper or is covered in dirt from head to toe (which I love about him!) but that never seems to stop me from finding him a cute outfit even if I know it's going to be quickly shredded at the knees and covered in stains. I shop for him far more than I do myself, and I happen to love shopping! I've had his Christmas present picked out for about two months now, ha. Also, we started in on the Christmas spirit in our house early this year. I don't know about you, but every year it seems like it goes too fast and with Thanksgiving so late, I've had Christmas music on and have changed out pumpkins for delicious smelling garlands. We won't forget Thanksgiving, and Easter has my heart, but I feel like you can never start getting excited too early about something so important as Christmas! Do you agree, or are you waiting until after Thanksgiving?!
PS. I am finally all caught up on emails, hallelujah… so if you sent me one over the past weeks or months (thank you!) and I never wrote back, please try again!