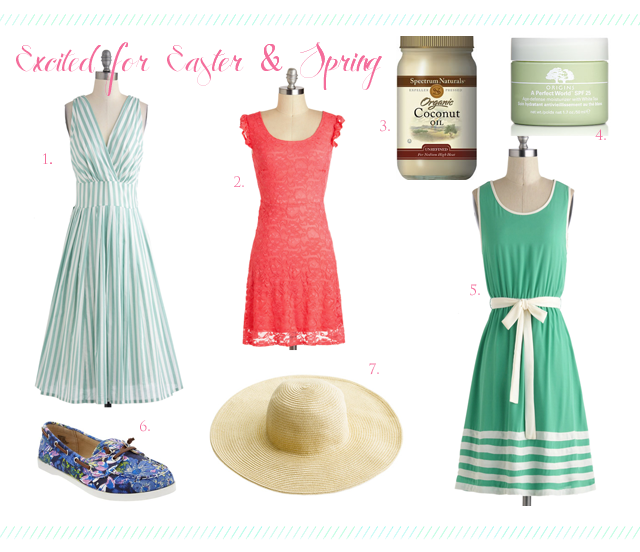 I know it's only the beginning of February but there have been a few days this past week that have felt and looked so unseasonably like Spring that I'm giddy. Cam and I even got in our bathing suits on Saturday and dared each other to go in the freezing ocean. It was collld but so fun.
In my excitement for springtime, here's three dresses I'd want to celebrate Easter in and some other goodies:
1. Spearmint Stripe dress from Modcloth. Every dress I've ever received from them has been lovely and fit me like a glove.
2. Pink Lace dress also from Modcloth.
3. Coconut Oil. Can't say enough good things about it! I use this year-round as a body moisturizer and also have another bottle for cooking. It has loads of great health benefits, is cheap, natural and I even use it sometimes as a nighttime face moisturizer.
4. Origins daytime face moisturizer with SPF. I try to stay away from as many chemicals as possible, and while Origins still has some, it seems to have far less nasty ones than most and keeps my face from getting sun-burned.
5. Love this very simple, 50's inspired dress.
6. Aren't these floral boat shoes from Old Navy adorable!? They remind me a little bit of you, Liz Denfeld!
7. My parents sent me this floppy hat from Jcrew for my birthday. Can't wait to wear it on the beach.
Are you as excited for Easter & Spring as me??
Happy Wednesday!