{our Indochina junk ship ~ the Dragon's Pearl}
{where we spent the first day ~ Hon Co Island}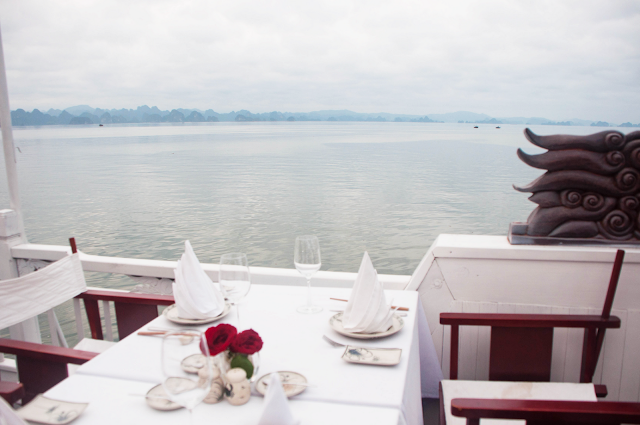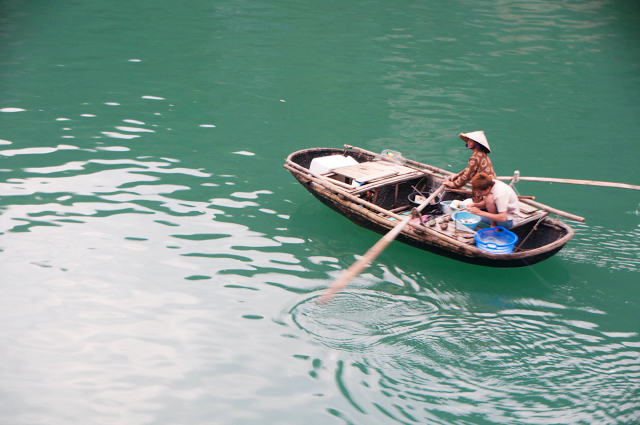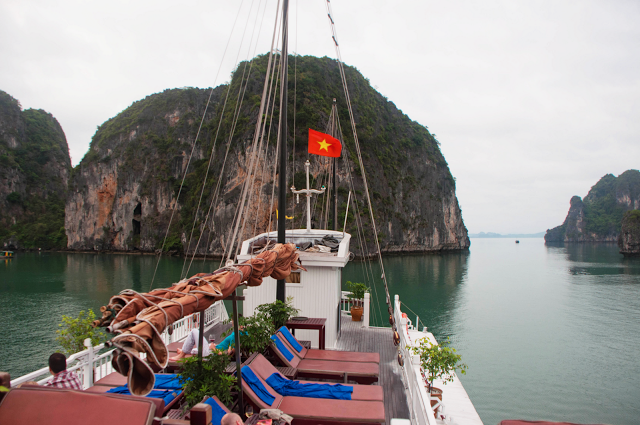 It's far more beautiful and peaceful and romantic than my photos do it justice.
It was the craziest three hour trek to get there from Hanoi but as soon as we set sail on the junk ship we were immediately in quiet and tranquility. We sailed on the other side of Halong Bay in Bai Tu Long which is the remote part of the Gulf of Tonkin more recently opened to junk ships. We saw only a handful of other ships the whole time. It was overcast which somehow made the Bay even more exotic and other-worldly. All of us on board found ourselves talking in hushed tones as we marveled at the nearly 2,000 islands jutting from the emerald water slowly passing by. It really felt like a different world. We ate each meal al fresco with the other couples on board and loved getting to know each of them a bit ~ most of whom were from England and were hilarious. And the crew was just the best.. so warm and hospitable. They served us a 6 course seafood lunch while we sailed to Hon Co Island where we walked up about 100 steps to a massive cave, took in the views, kayaked around the islands and swam. We spent the rest of the afternoon drinking a bottle of wine on the lounge chairs looking out in total awe. The only sounds were birds, an occasional fisherman passing by and soft music from the acoustic guitar one of the crew strummed for us on deck. It was so, so romantic and peaceful.. and just absolutely gorgeous. Truly a once in a lifetime experience.
The crew sang traditional Vietnamese songs to us after dinner that night as we all sat outside drinking wine,  thanking us for joining them. It was so lovely.. up until they asked us to join in on a praise song to Ho Chi Minh. Umm, heck no. Cam put it really well when he said that communism seems to be gasping for it's last breath in Vietnam. Free marketism is slowly making it's way in, though seemingly still at the rudimentary level.
I'm so excited to show you what the Bay looks like at dawn and the floating fishing village we rowed through… (: