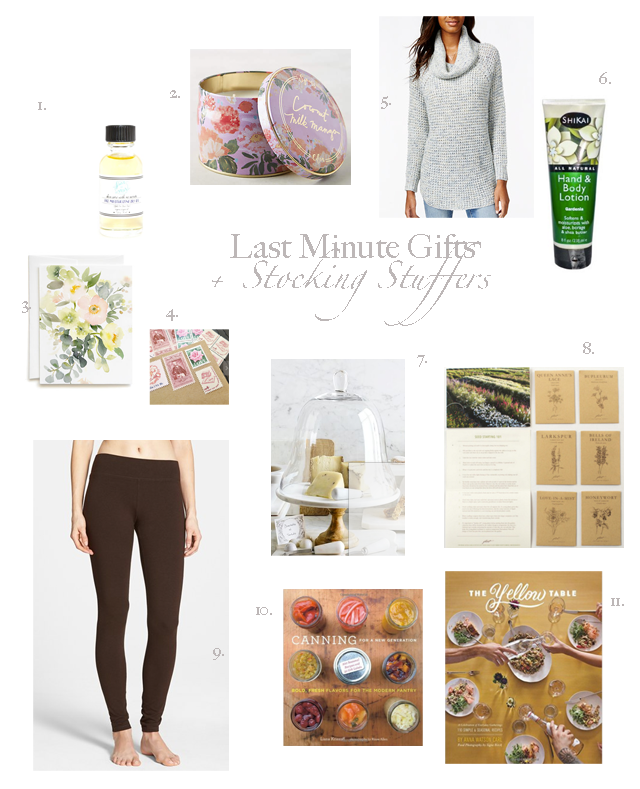 Each year, Cam and I make Christmas lists (he on Amazon, me on Pinterest) with a bunch of ideas that we can each pick from so the few gifts we give each other will be a surprise and something we actually want. It's worked so well! This year he didn't make me one though and gave me zero ideas. Stinker. I only came up with a few for him and that's what he's getting surprised with, so I can't share any here 😉 If you're trying to come up with something for little ones, my friend Sarah has amazing gift guides for babies and for toddlers. I've had so much fun shopping for the kids and imagining their faces light up that all I really want is that and some down time with Cam! I am so thankful that we are blessed to be able to give gifts and celebrate through it the most glorious gift of all.
I hope some of these ideas help if you're still trying to find something for a lady in your life!


Gardenia Lotion: One of the best scents in the world. Have been loving this thick lotion, and it's great in dry, cold weather.
Luxe de Mer Moisturizing Face Oil I've been using this since I wrote this post and still love it after a little Rose Water Toner. My other favorites from Luxe de Mer are the Jasmine Body Oil and the Santa Barbara Surf Scrub. An honest, great company with a wonderful couple behind it.


Hue Leggings. These often go on sale! I bought a pair of these in black for under $20 years ago when we lived in Okinawa and they're still going strong. I'd like to say that I get dressed in cute outfits every day, but… that would be a lie, ha! My Mom uniform at home is usually workout clothes or these leggings and a t-shirt. So easy and comfortable for chasing my kids. From the reviews, these sound comfortable for any age.
Spring Candle. I asked for this when it was on sale, hopefully it will be again soon!
Box Set of Cards. I like giving card sets as gifts and these ones are gorgeous. I have them and love 'em. Gracie has this watercolor print hanging in her nursery, too!
Stamps. Pretty stationary can always use some fun, pretty stamps!
Marled Sweater. When I put this on my list of ideas it was 60% off but Macy's always has good coupons/sales.
WS Marble Cake Stand. I like cake stands because you can use them for so many other things than just cake or cupcakes or cookies (though those are always good) It's pretty with a jar of flowers on them, pumpkins during the Fall or a small potted plant for a fun centerpiece.
Canning Cookbook. I asked for this! I always want more cookbooks for inspiration and am excited to learn how to preserve jam and learn some canning this summer.
Seeds! I love this for a stocking stuffer. Especially if you have a woman in your life who loves to plant and garden. You can find cheaper seeds at garden centers, though it is hard to beat this flower combination.
The Yellow Table Cookbook. I confess I bought this one for myself. That darn Amazon-one-click. It's not here yet but I already know I'm going to love it and be inspired by Anna's cookbook story… there's some gluten-free recipes in it too for you, GF friends and Nana Bethie!
Do you have any good last minute ideas? Happy gift-giving and last week of Advent!