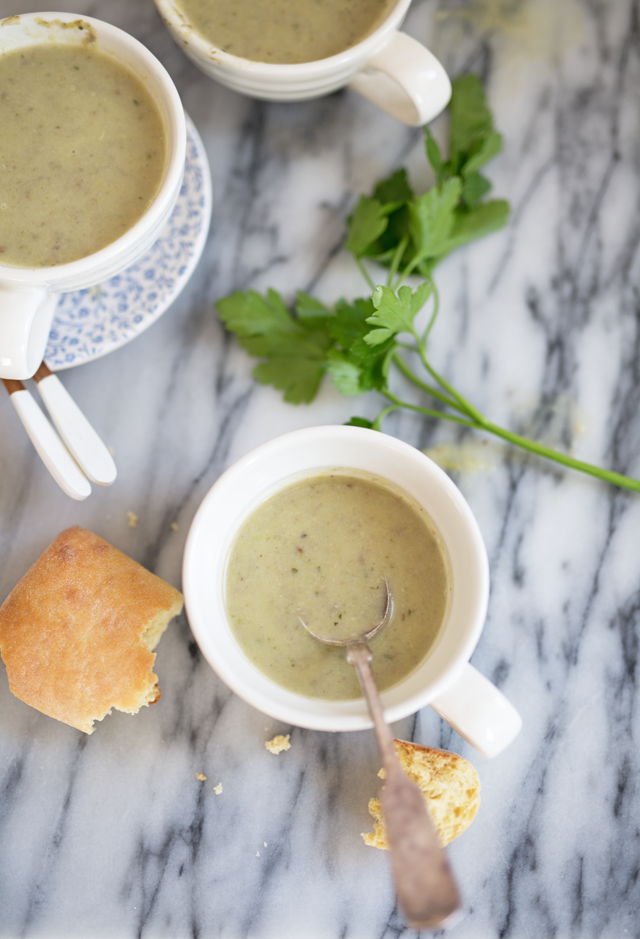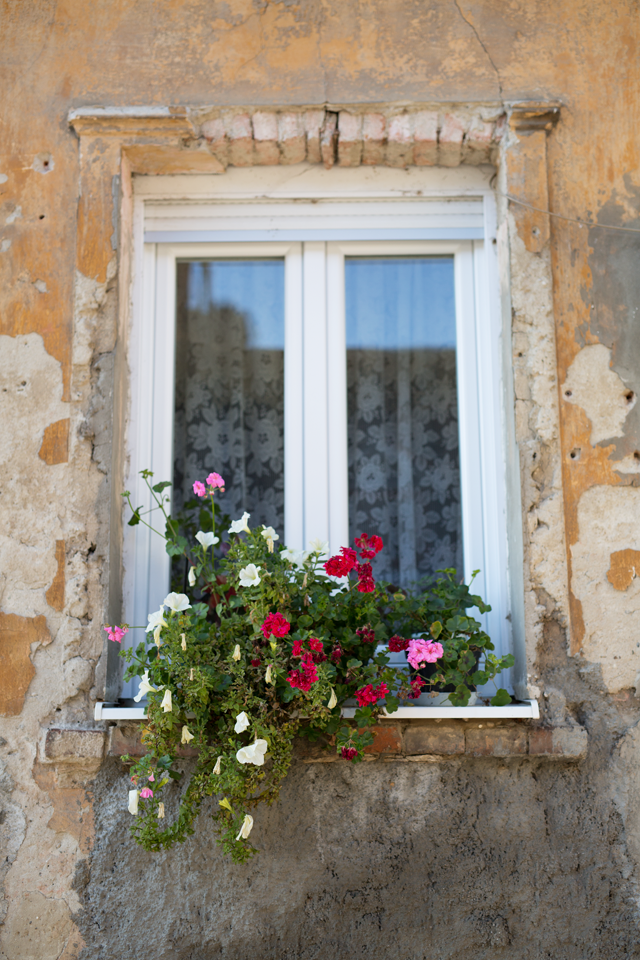 Soup is an important part of a meal in Croatia. Whenever we have lunch at our neighbor's or go out to dinner in Zagreb (there are some amazing restaurants!) the meal begins with soup. Along the coast you typically find seafood soups, the region of Istria specializes in it's own minestrone and inland around Zagreb, we almost always have seasonal vegetable soups, like mushroom or creamy cauliflower during winter. At one of our favorite restaurants in the city, Trilogija, the ingredients are locally sourced and the menu changes daily depending on what was fresh at the market. That is exactly how I love to cook, and as you probably already know, maybe my favorite thing of all to do here is to spend the morning at the market perusing the stands of fresh fruits, vegetables and of course! the flowers. After going almost daily, you begin to find your favorites; the best flower selection (and nicest lady), Maria who sells the best mushrooms in the Fall, Ivan's fresh-squeezed juices and homemade vinegars on Saturdays, the family that sells their variety of vegetables every day rain or shine, the ribarnica and pekarnica. John Shea lives for a warm chocolate pastry that we stop for at the bakery when buying a loaf of bread (I have created a chocolate monster, like mother like son) and Gracie either takes her morning snooze in the stroller or people watches.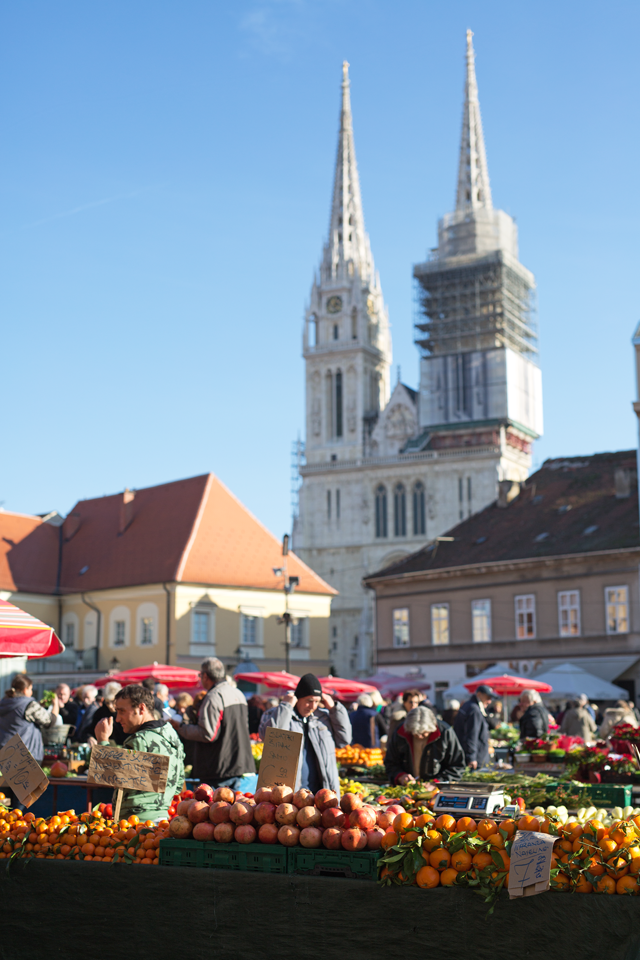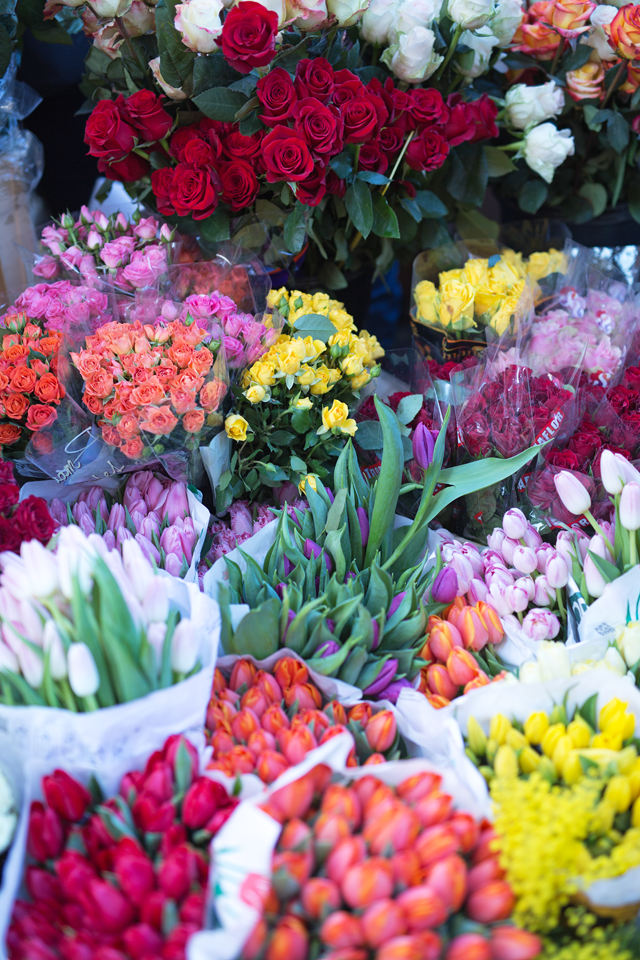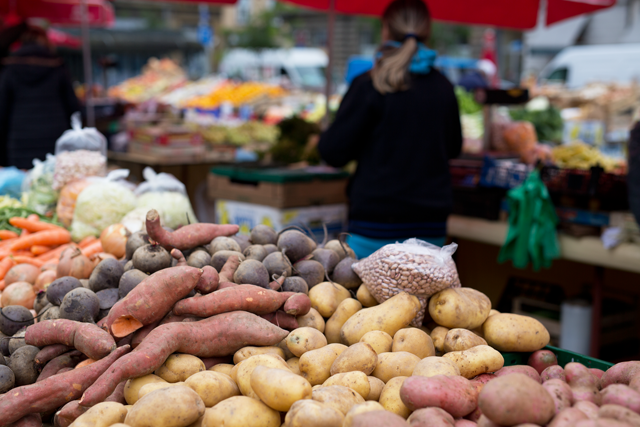 Bright green leeks and mounds of potatoes have been everywhere at the market lately. Have you ever had leek and potato soup? It's deliciously creamy and especially good for you with the added garlic if you're fighting a cold. There have also been beautiful mushrooms still available, so I added in some to give this soup a nice, earthy flavor. My family has been loving it and as a Mama of little people, I also love that it gives us a really good meal at least two nights in a row. Dobar tek! (Bon apetit!)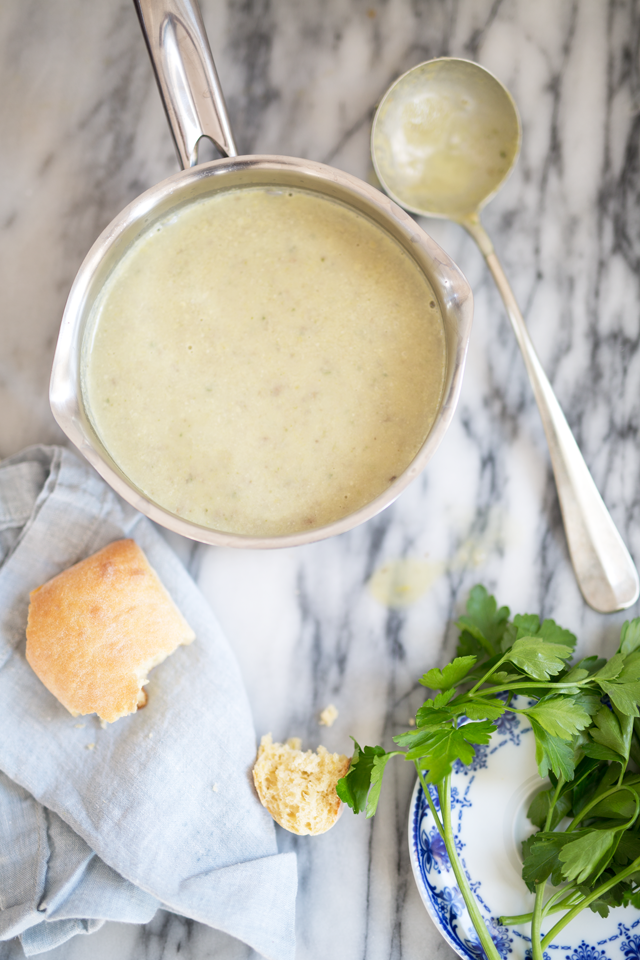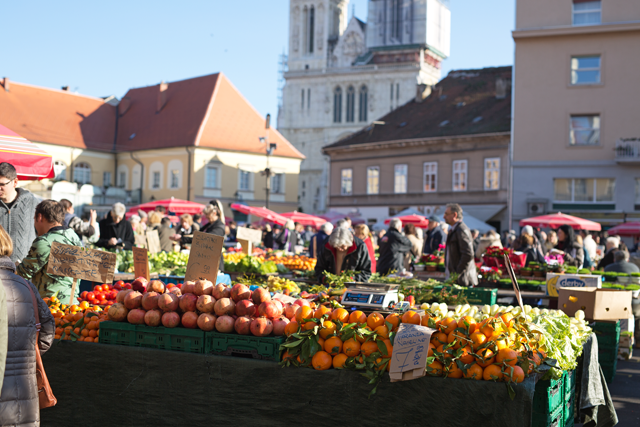 Leek and Potato Soup with Porcini
(serves 2-3 with leftovers)
2 leeks, roughly chopped
1 red onion, roughly chopped
1 small yellow onion, roughly chopped
1 clove garlic, minced
3 C (250 g) fresh porcini or champignon mushrooms (also called "white button")
6 small potatoes, roughly cubed
5 C chicken stock (not low-sodium if possible — it reduces the flavor!)
2 TBS chopped fresh parsley
1 C whole milk (can be eliminated if needbe)
course sea salt
extra virgin olive oil
The easiest way to chop leeks is to first cut off the tips, including most of the green stems (think of leeks like green onions – they're in the same family!) then slice it vertically down the center to thoroughly rinse them. Then turn it on it's flat side and roughly chop.
In a large pot over medium heat, pour in a few glugs of olive oil, enough to cover the bottom and add in the leeks, onions and garlic. Saute for about 3 minutes until fragrant. Add in the mushrooms (I have used porcini – fresh are more mild than dried – as well as white buttons and both work well in this!) and saute for another 6-8 minutes until they begin to be tender. Next add in the potatoes, another good glug of olive oil, a teaspoon of course sea salt and stir to combine to let the flavors marry for 3-4 minutes. Pour in the chicken stock and fresh parsley and bring to a boil. Simmer for at least half an hour. Add in the milk. Blend in batches using a blender or with a hand immersion blender (thank you so, so much Mom and Dad!) Taste; season with sea salt as needed. I almost always add in another 1/2 to 1 teaspoon of salt to help bring out the flavor. If the soup is too thick for your taste, add in more chicken stock (or milk if you would like it creamier) 1/2 C at a time.
Serve with warm, crusty bread and a white wine. If you're in Croatia, Malvasia is amazing with this! If not, try a Riesling to balance with the earthiness from the mushrooms. When re-heating the leftovers later on, add in some chicken stock or white wine to thin it back out.