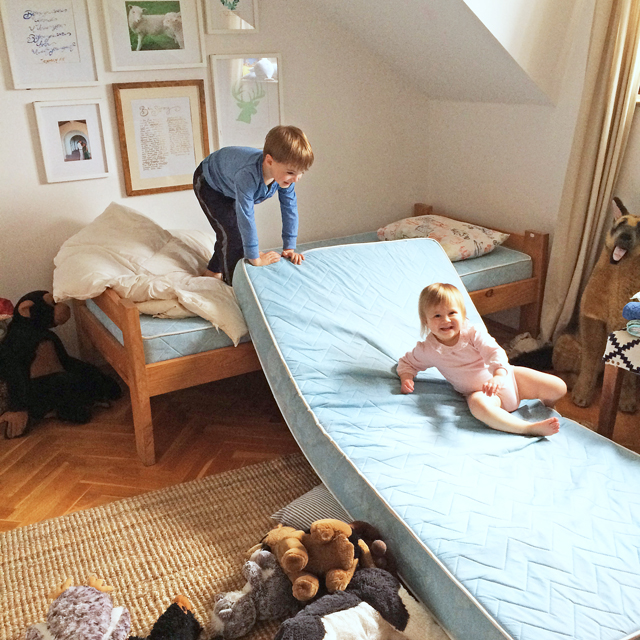 Cam and I have been thinking a lot lately about how to teach our kids personal responsibility and make it fun since they're little. I have the HUGE blessing right now of having Cam home part of the week with us when he's not in school, but on the days it's me flying solo with the kids, my mind is pretty much always trying to come up with more ideas to get our toddlers to help out since I'm so often holding, feeding, changing our newborn and don't have enough hands. Some days I'm good about implementing them (thanks, coffee!) and others I'm tired and admit, I am a slacker.
Training toddlers is hard work — but it's amazing to watch how good it is for them. When John or Gracie tackle something, or don't do something they know they're not supposed to, and we affirm them and tell them what a good job they've done, they beam with pride and walk a little bit more confidently. These are a few practical things we've been working on… though I'd really love to hear your ideas and what works in your homes!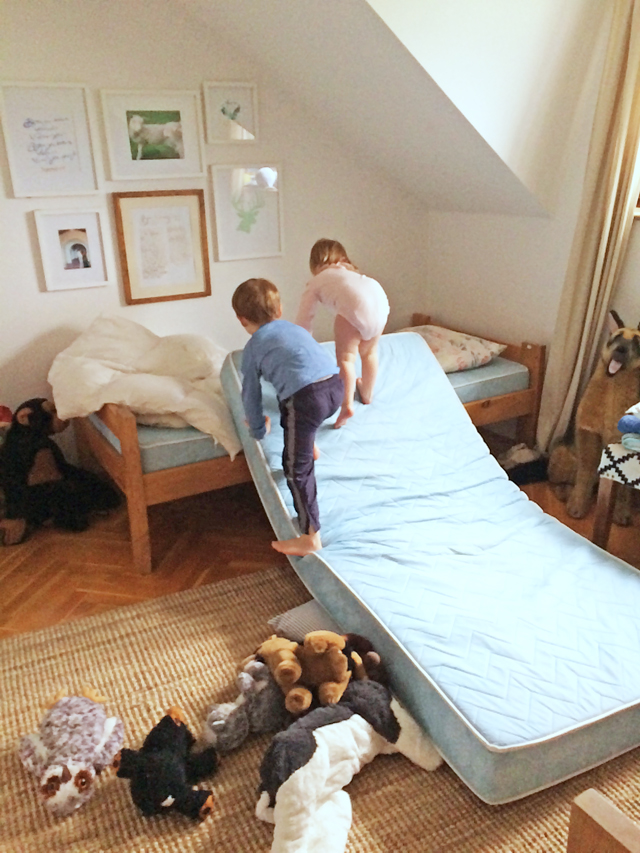 Picking up all of the toys before bedtime. Our kids thrive on their routines. They know we eat dinner as a family and then it's time to pick up, take a bath and then bedtime reading together. It's a battle every night getting them to eat their dinner, but it's become FAR less of one with picking up. Some nights John Shea even starts without us asking, which makes Cam and I high five. We have a huge basket as a catch-all for most of the toys and John has another one just for his blocks and legos. I put Gracie in charge of putting away the books… she's got like a 50/50 track record but we're getting there;) I love going to bed with a clean home – it makes the mornings sweeter and more peaceful, and I want our kids to learn that Mom and Dad are not going to be cleaning up after them their whole lives. So if they take something out, they need to be the one to pick it up at the end of the day. Disciplining does not come naturally to me (it would be sooo much easier to just do it all myself and not follow through with what we've set in motion) so I'm being trained right along with them.


Clearing the table. Right now John Shea puts his dishes in the sink after dinner, but I want him to start clearing the whole table… work in progress… 🙂
Help Changing Diapers. Grace is usually great about throwing away hers and Georgia's dirty diapers. Woohoo! She runs to the garbage like she's holding a special package and looks very accomplished after finishing that task. Cracks us up! Today she tried for the first time to help changing Georgia's diaper… which was interesting, haha. That'll be something we'll work on later on.
Brushing Teeth. Thankfully this one is easy. They both love brushing their teeth!
Helping me at the market & in the kitchen. John Shea is my favorite little person to take to buy produce. He picks out vegetables and fruit and when I have the energy, it's fun to have he or Grace watching how I cook with it for dinner. John is my resident sous chef. That usually means I have spilled herbs/flour/you name it all over but I have to remind myself to get over the mess!!
Vacuuming. I have no idea what the fascination is with the vacuum, but, I'll take it! John especially is good with the vacuum or wiping up a mess under the table. Not always, but we're getting there! They're both also fascinated by doing laundry… though judging by them pouring a bottle of detergent all over the floor and mixing the clean loads I'd just done with the dirty… um, we are not there yet. Not even close. Ha.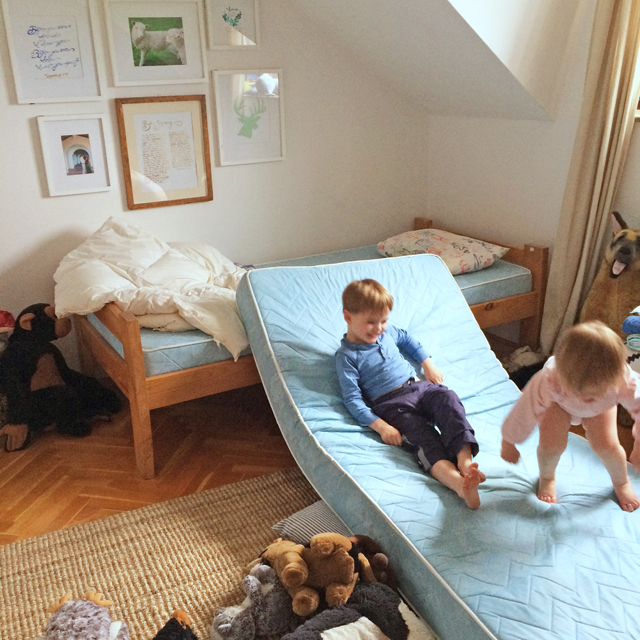 Also…
I just read an awesome post from my friend Anna's blog for encouraging independence which inspired me to finally write these thoughts down! My brother-in-law sent us this article which was an excellent read. My friend Sondra just gave me the book, And Then I Had Kids by Susan Alexander Yates. It's Scripture-based and a fast, funny, refreshing read.
Please share any ideas you have!
Happy Wednesday!
(photos from a rainy day this weekend)