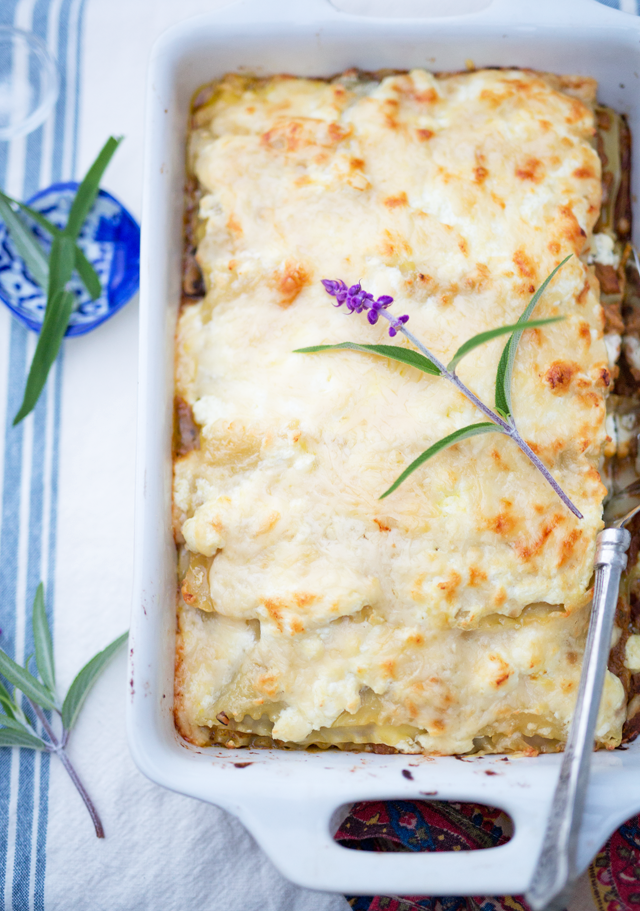 Happy first day of October! And dobro veče! It's bedtime in our house right now, so I just wanted to say a quick hello and share this delicious recipe. See you back here tomorrow!
Pumpkin Lasagne
6 zucchini, sliced lengthwise (or chopped, up to you!)
1 yellow onion, chopped
3 garlic cloves, minced
1 pint small portobello mushrooms, halved
1 1/2 15 oz cans pumpkin puree (or about 1.5 – 2 lbs)
1 teas cinnamon
1/2 teaspoon nutmeg
4 fresh sage leaves, chopped (can be substituted for 1 teas dried sage)
1 lb lasagne noodles, uncooked
12 oz feta (preferably in brine!)
15 oz whole milk ricotta
2-3 C grated parmesan
fine sea salt
olive oil
Preheat the oven to 375 degrees F.
In boiling, well salted water, cook the lasagne for 4 minutes. Drain and set aside.
Over medium heat, saute the onion and garlic with a good glug of olive oil until the onions are translucent, about one minute. Add in the mushrooms with a drizzle of olive oil and a sprinkling of salt. If you prefer to chop the zucchini, add them in at this time. Saute until the vegetables are cooked through and lightly brown. If you prefer to slice them lengthwise (the appearance is prettier in the cut lasagne but it will taste exactly the same!) then saute them for about 2 minutes on each side with olive oil and sea salt. Set the cooked vegetables aside.
Combine the pumpkin, cinnamon, nutmeg, and a dash of salt in a bowl. In a separate bowl, combine the feta, ricotta, chopped sage, 2 tablespoons of olive oil and a teaspoon of salt.
Spread 1/3 of the pumpkin mixture on the bottom of a well-greased 9×12 inch baking dish. Place enough lasagne sheets to cover. Spread half of the remaining pumpkin over the pasta, then half of the vegetables. Next, half of the cheese mixture. Cover with lasagne sheets and repeat. Top with the parmesan and bake, covered with foil, for about 30 minutes. Remove the foil and bake uncovered for 10 more minutes so the parmesan can melt and lightly brown. Serve with Pinot Noir or a yummy seasonal beer or ale. Enjoy!