This was definitely one of our favorite days. Minus the fact that I got sick at the end of it because a cappuccino and one croissant, plus the rest of Mand's was not what I consider a real breakfast! And we got in a car with an Italian. Mistake numero uno. He was an awesome tour guide, but a terrible driver, and drove every curve like he thought he was the next Mario Andretti. My wife was loving it, I however was feeling preeettyy close to puking. Regardless, that day was almost unreal, and is my favorite of all our European adventures.
We got picked up in Siena early in the morning and were taken to the Brunello region of Tuscany which is the most prestigious and the smallest wine making region in Italy. We were nowhere near the tourist path. The vineyards we went to were family-run; no one spoke a lick of English, so Mands translated all day and got all the inside details on the centuries-old vineyards and wine maker's secrets, which we plan to use when we start our own vineyard. We drank olive oil from a wine glass because it was THAT good! We were poured full glasses of wine – not the American-style of wine tasting where you get poured A taste. And then they REFILL your glass proudly explaining the complexities of each wine. Bottles of Brunello that were worth more than either of us could imagine were opened for us in the cellars. Franco took us all over the region – including lunch on a farm where they made everything from scratch from their land, and a monastery in the middle of a valley where we went in and listened to the gregorian chants.
I have never had more fun with one person in my entire life as I did with my wife on our trip!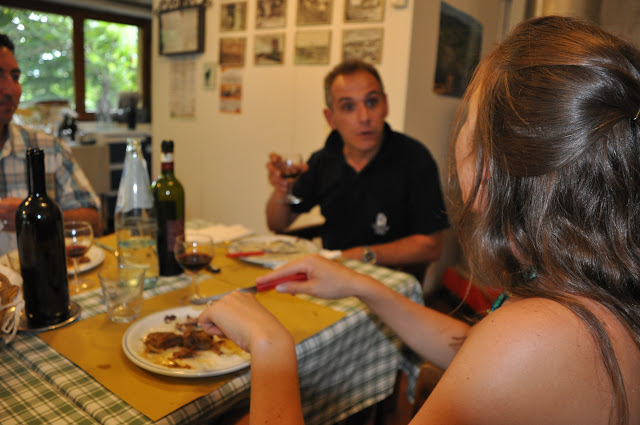 Wine Tour Guide Extraordinaire Franco Fadda