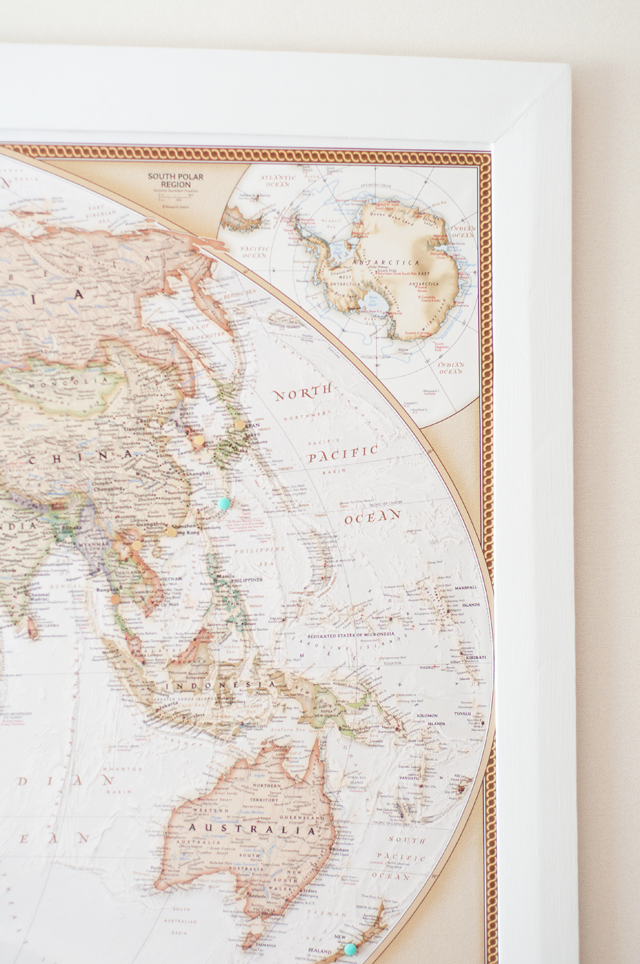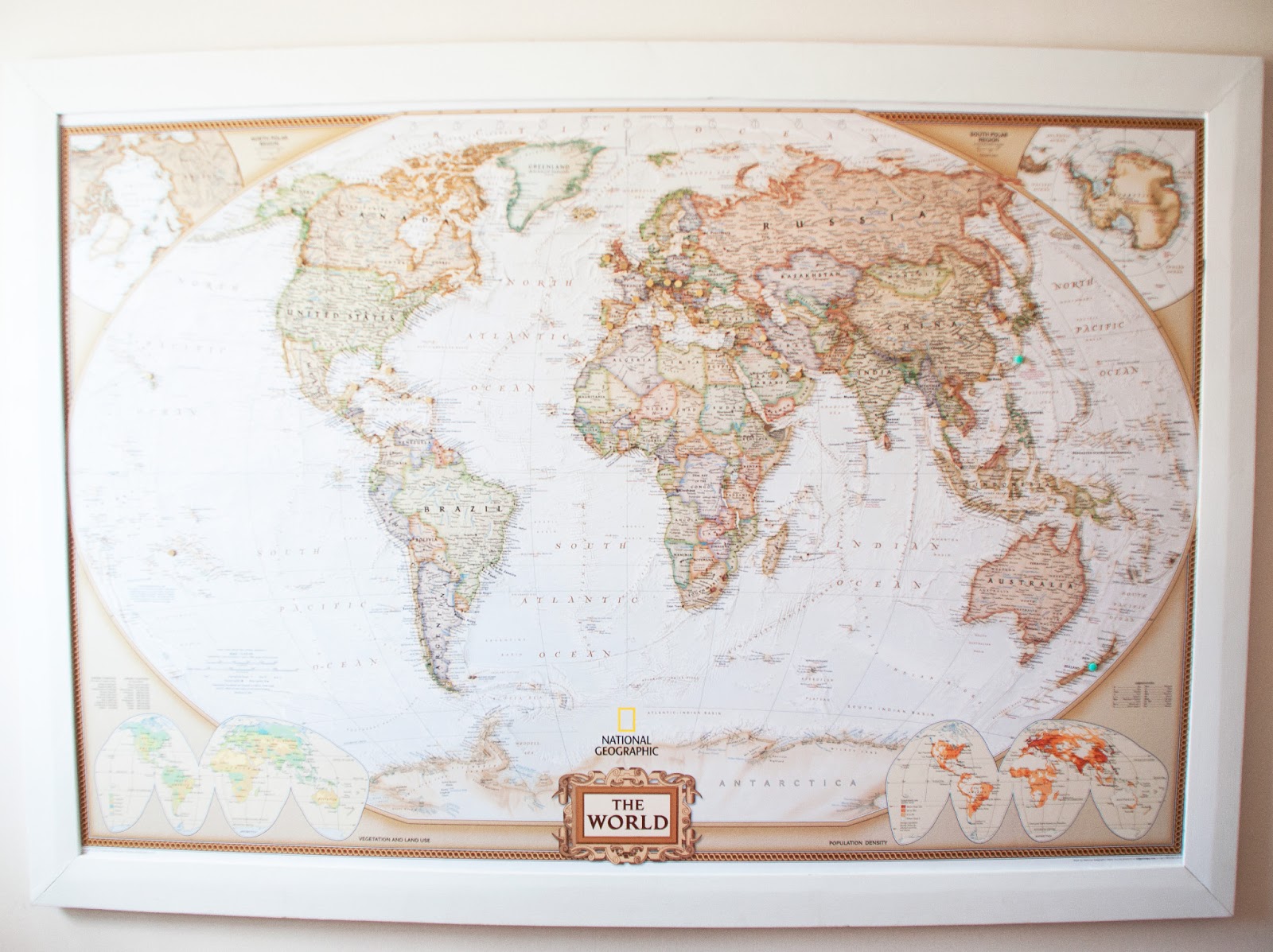 If you remember from
this
long-ago post, we love maps. When we were building those two years ago, we talked and dreamed about a huge world map in our one-day nursery… for our one-day baby…
Proof that time is flying, here it is!
It's hard to tell from this photo but it's about 8 feet long! It basically covers an entire wall in the nursery. We attached the map to cork board so that he'll be able to place pins on each place he gets to go. We also started using gold pins for us so he can see all the countries his daddy and mama have traveled to and lived in… and left a note on the very back for him to find one day.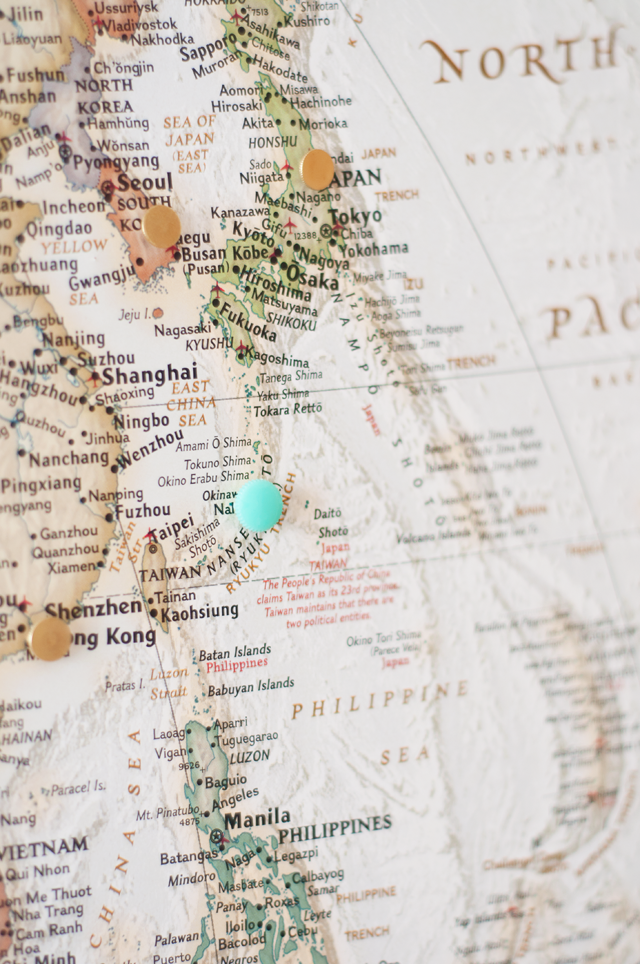 We're excited that he's not even out of the womb yet and he has his turquoise pins on New Zealand and Japan! Already a little world traveler. We have so many more upcoming travel plans for him. Seeing, understanding and enjoying God's world is incredibly important to us, and something we hope very much to impart on our son.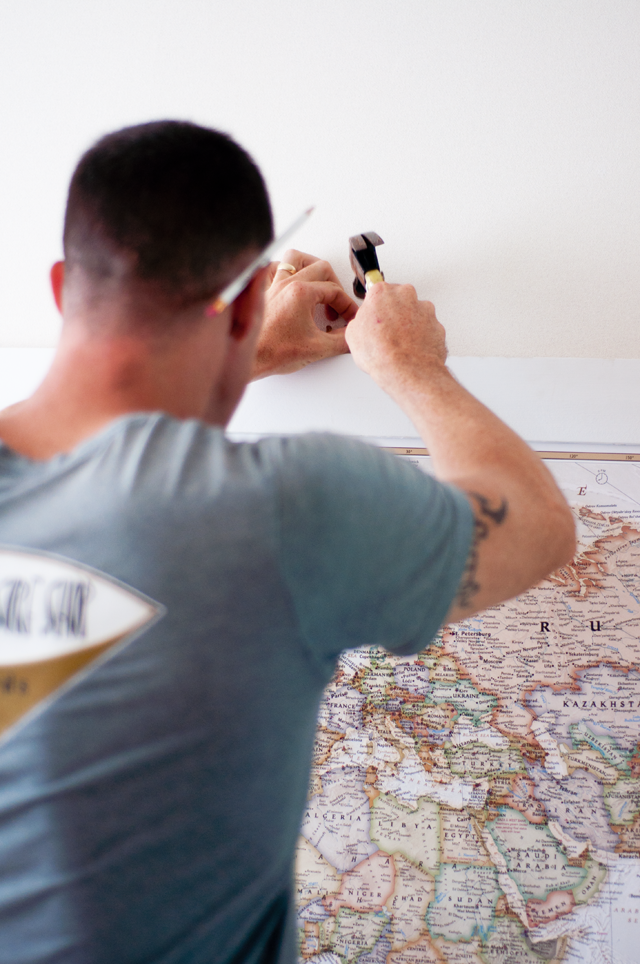 DIY Info for those interested (:
I found the map on Amazon
here
, for only $20! It is far more beautiful in person.
It's a modern day map, but with an antique look to it thanks to the soft colors.
It took us about a weekend to build:
1. My awesome husband built the frame out of pine
2. We painted it // let the paint dry overnight
3. Cam cut a piece of 1/4″ thick plywood to fit the frame exactly as the backboard.
4. I measured, cut and attached cork board squares to the plywood, using wood glue.
5. Then attached and smoothed the map very carefully and slowly to the cork board using adhesive spray.
6. Cam attached the frame to the finished map board with wood staples and drilled in metal corner reinforcements.
We had fun working on this together over the past two days. And saved money! Finishing a project together really is gratifying. It's also fun to think about how special it'll be when he understands one day that his parents made this, just for him.